File Format
Cardzilla will accept a range of formats for printing.
Cardzilla Prefers
PDF files
CMYK colour
300dpi resolution minimum
Fonts converted to outlines or flattened
Resolution
Images such as photos in your artwork must have a minimum resolution of 300dpi. Images that have a lower resolution may print pixelated or fuzzy. Images taken from the internet often have a resolution of only 72dpi and will very rarely print very well.
Correct Colour
Digital printing uses a CMYK colour format (Cyan, Magenta, Yellow and Black). The colours on your screen are RGB colours (Red, Green, Blue).
Some RGB colours that appear on your screen can not be printed in CMYK. You must be careful when selecting colours for your printing, as some colours will print "dull" when compared to your computer screen.
Programs such as Adobe Photoshop and Adobe Illustrator can convert all colours to CMYK. Programs such as Microsoft Word can not, so you must manually select colours which are not at risk.
Fonts
You may choose to select only common fonts such as "Arial" and "Times New Roman", or you can "embed" the fonts when saving your artwork. Preferably fonts in your artwork need to be "converted to outlines" or "flattened" into a graphic. This will eliminate the chance of fonts not displaying correctly and not printing the way you intended.
Designed By Cardzilla
CARDZILLA has a creative team of designers that can design your card for you at a very competitive rate.
Business Card Artwork Size
94mm x 59mm (including 2mm bleed)
Artwork Bleeds – IMPORTANT!
Your artwork needs to be a certain size to print correctly. For business cards it is 94mmx59mm. Part of this size is what we call the "bleed" which will be trimmed off. The bleed area is 2mm on each side. In addition to the bleed area outside the cut line, we strongly recommend making another internal margin as the cut line can vary in location.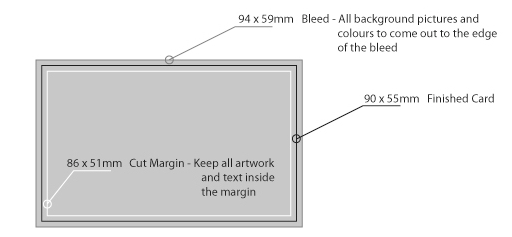 The finished size of your business cards will be 90mm x 55mm after the 2mm bleed is trimmed off.
Black Line The black line here represents where the bleed area will be trimmed off and the finished edge of your card. Do not put any important information in the bleed area, or near the bleed area as it may be trimmed off.
White Line Important information cannot be placed too close to the bleed area. We suggest leaving another 2mm internal margin, inside the white line.
Grey Line The background colour or image must continue into the bleed area, out to the grey line, otherwise an uneven white border may appear around the finished print.